CTM Festival's Research Networking Day provides a platform to exchange ideas and experiences for students and researchers from different European graduate and postgraduate programmes traversing the fields of audio, arts, media, design and related theoretical disciplines. A yearly initiative co-organised with the Humboldt University Department of Musicology, the German Association for Music Business and Music Culture Research (GMM), and the "Popular Music and Media" study programme (BA/MA Paderborn University, DE), the RND sought submissions from students, junior researchers and persons pursuing higher levels of research and studies to present projects and findings connected to the CTM 2019 Persistence Theme.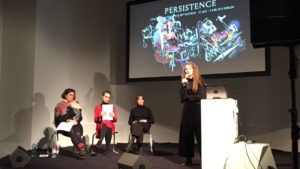 RND 2019 was divided into three modules:
The first module within the 2019 Research Networking Day was hosted by Dahlia Borsche, who is Head of Music at the DAAD Artist-in-Residence programme. Until October 2018 she was Research Associate at the Department of Musicology at Humboldt University Berlin, focusing on contemporary and transcultural music processes.
The presentations of this session focused on ecological questions of electronic music culture / sonic arts.
Max Litjens (University of Amsterdam, NL) talked about the producer Herbarium's album, Freshness. According to the presenter, the album exposes how rethinking categories through a future imaginary can contribute to imagining a system of relationships that is better suited to confront the current ecological crisis.
Sophia Bauer (Kunsthochschule für Medien Köln, DE) proposed an artistic research project reflection on colonialisation in Kenya. landscape through sound. She examined the soundscapes of two forests in Kenya: the Kereita Forest Block and the Arabuko-Sokoke Forest. By listening to these two forests, she rethought the relationship between colonialism, people, places, and plants, and to reassemble their hierarchies in history.
Aladin Borioli (Freie Universität Berlin, CH/DE) explored the relationship between honeybees and humans. Combining an anthropological approach and artistic practice, his research project investigates contact zones where humans and honeybees meet.
The second module was hosted by Christoph Jacke, who is Professor of Theory, Aesthetics, and History of Popular Music (University of Paderborn), and Chair of the German speaking branch of the International Association for the Study of Popular Music (IASPM D-A-CH) among other. His research focus is on media, culture, and communications theory, cultural studies, celebrity studies, and popular music studies.
This module highlighted the most actual issues of media and technological developments and their influences on music production.
Ilana Harris (Humboldt University, DE) talked about ideasthesia, one theoretical approach to synaesthesia. This argument views synaesthesia not as an irregularity resulting from a habituated misfiring or developmental dysregulation, but as a linkage of different sensory precepts under an overarching semantic umbrella for any one single concept. In the presenter's opinion, ideasthesia can help us to explore the concepts of innovation and social action in their etymological foundations and societal connotations, and furthermore postulate their existence under one overarching semantic network of change.
Pierre Depaz (Film-Universität Konrad Wolf Babelsberg, FR) exanimed how programming in the arts can be understood as a highly relevant locus of conflict between what Jacques Ranciere has defined as the opposition of consensus and dissensus.
Alejandra Cardenas (Technische Universität Berlin, PE/DE) applied Murray Schafer's method of soundscapes to examine the devotional object of our era, the smartphone, as an effective self-monitoring and surveillance artifact.
Gary Charles (University Of Birmingham, UK) looked at approaches possibly resilient or offensive to machinic learning; drawing examples from punk, grime, contemporary classical, and sound art. Alongside a creative practice centered on uncontrollable systems, attitude-based improvisation, material dirt, and multiplied randomness, the presenter tried to develop both critique and possible methodologies in sound creation.
The third module was hosted by Anita Jóri, who is one of the chairpersons of GMM. This session focused on gender-related issues in electronic music culture.
Jilliene Sellner (University of Sussex, UK) emphasised the possibilities and limitations of research methodologies from a European or North American perspective on Middle Eastern region. To do so, she presented her creative collaboration with women sound artists in the Middle Eastern region.
Aude Gouaux-Langlois (UdK Berlin University of the Arts, FR/DE) questioned the perception of the gendered voice in the field of performance. She discussed how parts of Western society influence the human experience of one's voice. She argued that female and male markers are merely constructions that aim to control the voice and fit it into certain structures (so-called gender norms), and that we shouldn't underestimate the power of the voice to transcend them.
Finally, based on ethnographic research and interviews with female musicians and sound artists from Mexico, Catharina Rüß (University of Paderborn / University of the Arts in Bremen, DE) demonstrated how women in this region express their own voice with constant performances in an international field of alternative / electronic / experimental music.
After the three modules, Dahlia Borsche, Christoph Jacke, Anita Jóri and participants summarized their thoughts on the above-mentioned topics.
It was a very productive afternoon and everybody learned a lot from each other by exchanging research methods and topics.